It is with joy that we introduce this program of spiritual accompaniment that emerged from the heart as a result of our experience with "Choose Only Love."​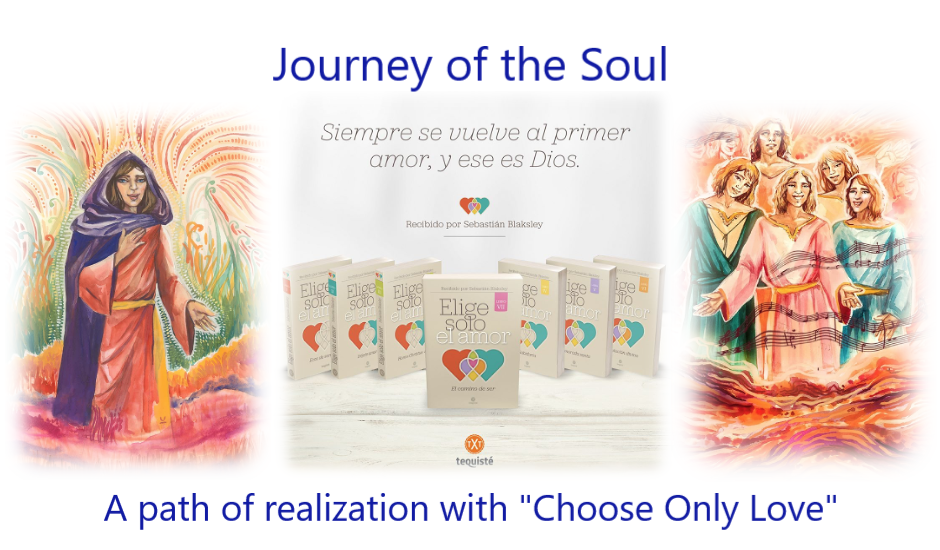 ​"Journey of the soul" is a path that is traveled hand in hand with the writings received by Sebastián Blaksley to facilitate the understanding of the choice for Love that your soul has already made, and that you are here to express that Truth.
We make the journey with you from the human heart:  A path from book 1 to 7 with the recipient of this work, Sebastian Blaksley.
​As Pilgrims of Peace:  Rosa Riubo, Lorena Boggero, Sonia Sosa, and Cristina Moragas.
9-month journey of transformation from September to May.
​The program includes individual sessions, as well as 14 live and group meetings with Sebastián Blaksley, receiver of Choose Only Love, among other works. In them, you will be able to ask and share your process in total group privacy.
​Each book is part of the journey, with individual and confidential sessions with a peace pilgrim assigned to you. Includes mindfulness approaches and audio meditations from the texts.
For a personal conversation about "Journey of the Soul", please contact directly Sonia Sosa on Instagram
at soniasosa_pilgrimofpeace or by e-mail at sonia@fundacionamorvivo.org